A very enjoyable read with some surprising suggestions, acceptable history, and future possibilities. I am "all in" that books will remain important but I do tend to lean towards the book as an object to collect, preserve and protect! I'm not motivated by novelty APPS and novelty technology to engage with traditional printed books but I can support the spirit behind the ideas. I'm still trying to decide whether re-posting blog posts that capture my attention is the right way to engage but it certainly is an efficient manner of sharing in our modern world. Sharing is important! Hope you enjoy the pointer to a valuable read. (Thanks to
Arts and Letters Daily
for featuring). I do like the idea mentioned below, the LitCity App, but I know I'd never use it! Of course, I dream of the day when I can stroll Paris and get notified whenever I pass a structure mentioned in
The Dwellings of the Philosophers by Fulcanelli
with a copy in hand to refer to and all linked to a GPS walking APP to find all the mentioned dwellings.
Books Won't Die
September 17, 2019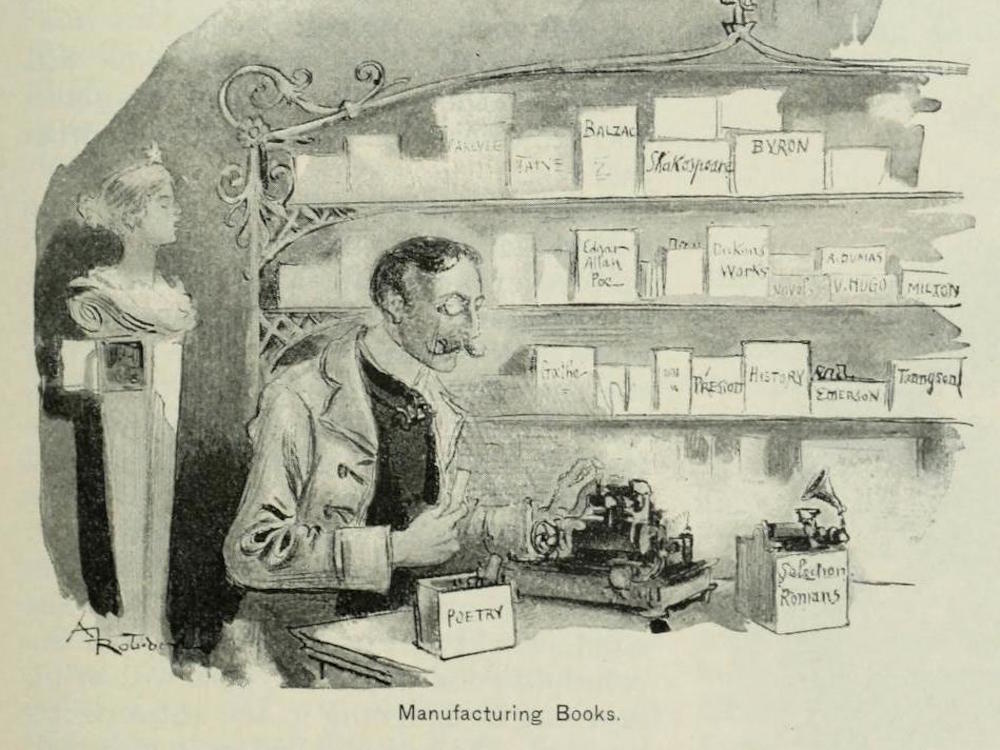 ILLUSTRATION BY ALBERT ROBIDA, FOR "THE END OF THE BOOKS," BY OCTAVE UZANNE, PUBLISHED IN SCRIBNER'S MAGAZINE, VOL. 16, NO 2, AUGUST 1894. PUBLIC DOMAIN.
Increasingly, people of the book are also people of the cloud. At the Codex Hackathon, a convention whose participants spend a frenetic weekend designing electronic reading tools, I watch developers line up onstage to pitch book-related projects to potential collaborators and funders. "Uber for books": a same-day service that would deliver library volumes to your door. "Fitbit for books": an app that blocks incoming calls and buzzes your phone with reminders to get back to a book. That literary pedometer meets its real-world counterpart in LitCity: "Imagine walking down a city street and feeling that familiar buzz of a push notification. But instead of it being a notification on Twitter or a restaurant recommendation, it's a beautiful passage from a work of literature with a tie to that place." I thought back to the nineteenth-century guidebooks that inserted a snippet of Shelley next to their map of the Alps; the book has always been about bringing worlds together.
(More here)